Make a stunning statement on your kitchen counter with the Inspire 4 Slice Toaster. Combining a classic, clean white with a strong stainless steel – this toaster adds a touch of class to any kitchen. Be drawn in by its unique design of entrancing, textured ripples that endlessly wrap around every aspect. With 4 large slots it's the perfect size to bond over breakfast with those that matter most. So switch off from the world, push down the lever and get back to truly enjoying life with a delicious breakfast and great company.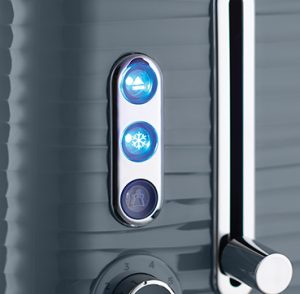 Frozen, cancel and reheat settings
The Inspire 4 Slice White Toaster has a button for every function. With a defrost feature to make a speedy slice of toast straight from frozen and a cancel button to save your crunchy slice of toast from burning. The Inspire 4 Slice Toaster also comes with a reheat setting for those hectic mornings, when you need to heat up your toast to a time that's more convenient for you.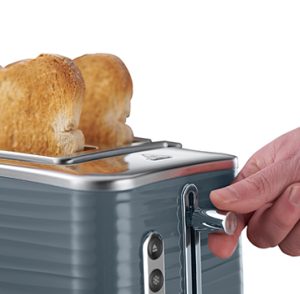 Lift and look
Bringing convenience and safety to your morning breakfast routine, the Inspire Toaster comes with a lift and look lift feature, which allows you to take a sneak peek at how the browning of your toast is doing, without cancelling the cycle. It also makes removing your toast much easier. With a lever that can be effortlessly lifted upwards, you can now remove your tasty slice of toast without toasting your fingertips.