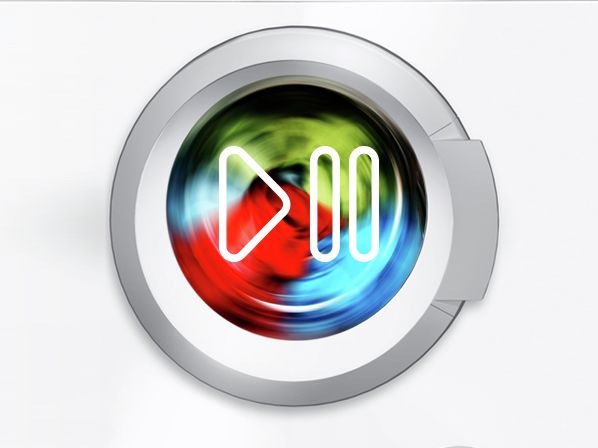 Never miss an item again. Reload by Bosch.
Forgot a child's sock or your favourite t-shirt? Nevermind. When was the last time, you loaded the washing machine, started the wash cycle and then realised that you forgot something important? The reload function lets you simply add missed out clothes or remove clothes during a wash cycle*. Just pause the running cycle and open the door, to simply reload your forgotten items into the drum and continue the wash. (*Reloading is not possible when suds temperature is higher than 50°C or when water level is too high.)
Save time or energy – and always get perfectly clean laundry.
Everyone wants to save energy when washing. But on some days, speed is more important. Especially when you're in a hurry. Thanks to VarioPerfect, you can keep both options open – without compromising performance. Simply choose between the SpeedPerfect or EcoPerfect functions in the menu to set most of the programmes to run more quickly or more efficiently. This helps you reduce your washing time by up to 65% or your energy consumption by up to 50%*. But no matter what you decide – your washing result will always be the same: 100% perfect. (*Basis: Difference between the duration of the Cottons 40 °C programme + pressing the EcoPerfect button and the duration of the Cottons 40 °C programme + pressing the SpeedPerfect button.)
After 20 cycles operating under 40℃, your washing machine will automatically remind you to clean the drum using the 'DrumClean' program. Ensuring your clothes are properly cleaned to perfection.