The whisper quiet washing machine.
The innovative AntiVibration design of the side walls is not only eye catching: the system also provides more stability and reduces vibration. The enhanced insulation also regulates noise levels, making Bosch washing machines very quiet, even during the spin cycle.
EcoSilence Drive: durable, extraordinarily quiet and efficient.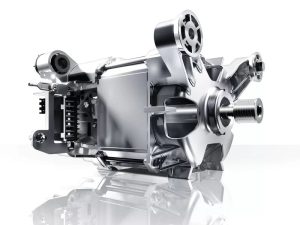 The level of noise in your house can often make or break your day. Especially when you want to have dinner in peace and quiet with your family. Bosch's EcoSilence Drive is so quiet, that sometimes you may forget that your washing machine is on. Equipped with a brushless, energy-efficient motor that optimally reduces friction noise and is quiet in operation with an especially long life.
Wash up to 65% faster without compromising results.
"SpeedPerfect is a special fuction developed for situations when time matters. With SpeedPerfect you can reduce your washing time by up to 65%* without compromising results. It can be used in combination with most of the programmes, all loads and textiles. For example, by selecting the mix programme in combination with SpeedPerfect, you can throughly wash up to 4 kilograms of mix load in just 41 minutes. (*Difference between the duration of Easy Care Programme 40°C and the duration of Easy Care Programme 40°C in combination with SpeedPerfect option.)"