The dishwasher that keeps you in the loop.
Waiting around for your dishwasher to finish can waste time and cause unnecessary stress. Especially for those with busy schedules. Home Connect puts your mind at ease and helps you be more productive with your time. If you wish, push notifications can be sent from your dishwasher directly to your mobile device, conveniently letting you know the current program status of your dishwasher, as well as other useful information. Multitasking in and out of the home just got a little easier.
The dishwasher that keeps count for you.
Running out of dishwasher tablets is the last thing you want when you need clean dishes. The Tab Counter on the Home Connect app tracks your consumption and informs you via push notification when you're down to your last five tablets according to your last purchase. Finally, a dishwasher that looks after itself.
The right recommendation for the right job.
Selecting the right wash program for your dishwasher can not only be confusing, but can often result in reduced cleaning performance. Home Connect with Easy Start function takes the guesswork out of this job and always recommends the right program to you – directly from your mobile device. The only thing you need to do is enter the degree of soiling, type and quantity of the dishes or cutlery being washed. So you can easily choose the right program for perfect results, cycle after cycle.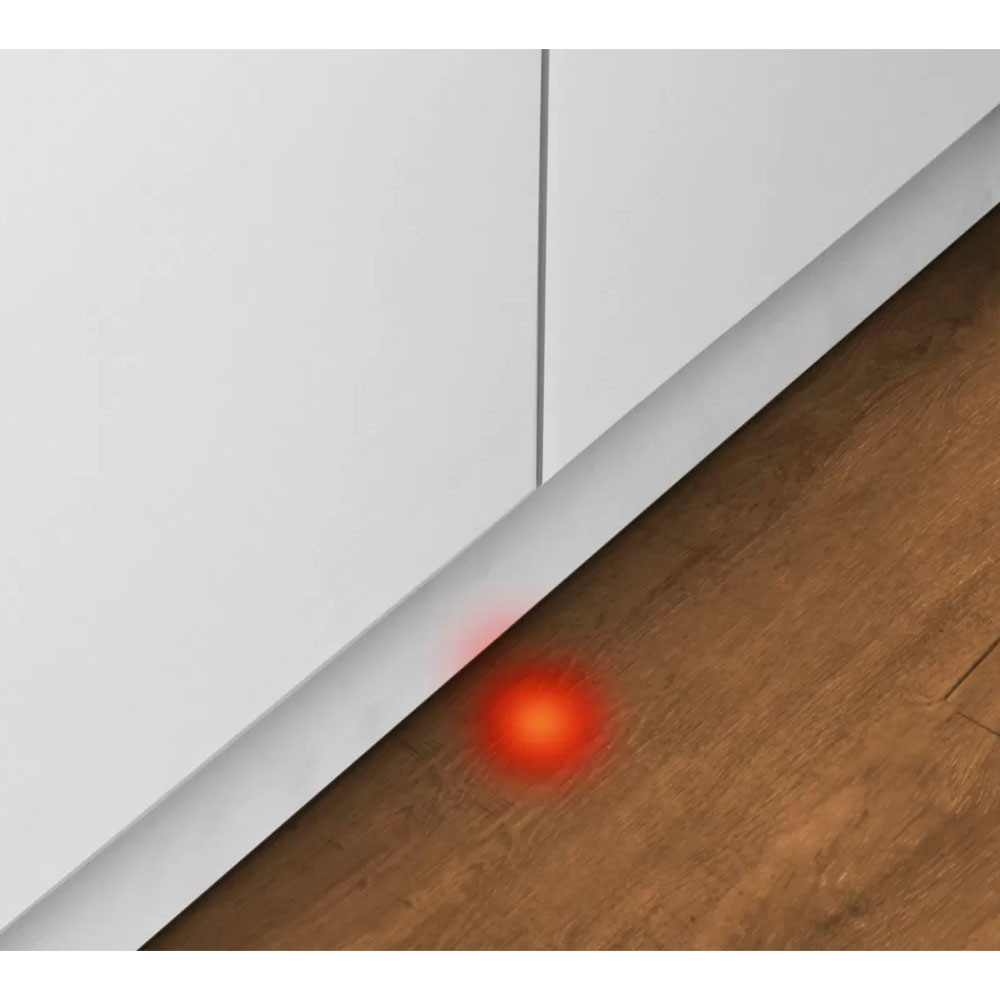 InfoLight® -a light that tells you when your dishwasher is running

InfoLight® projects a red light onto the floor during the wash cycle so you know when your dishwasher is running. The light turns off when dishes are ready.
Glass protection
Glass protection for gentle care for your glasses and delicate dishes. Because soft water causes glass corrosion, Bosch dishwashers with glass protection regulate the degree of hardness. This is how we optimize the protection of valuable glasses and delicate china with special care.
ActiveWater technology: less water, less energy, more performance.
This innovative rinsing technology maximises efficiency and ensures environmentally friendly rinsing for excellent cleaning results. The water and energy is saved through targeted water distribution, optimised filter technology, faster heating and higher pump performance for increased water circulation.
EcoSilence DriveTM: powerful, durable, quiet and efficient.
Keeping the house clean can be difficult. Keeping it quiet can sometimes feel impossible. Our dishwashers with EcoSilence Drive deliver high-performance cleaning with low noise emission. Equipped with a brushless, energy-saving motor that optimally reduces friction noise, the EcoSilence Drive ensures a much smoother, quieter operation. Now you can enjoy a home that is as quiet as it is clean.
DosageAssist ensures optimum results thanks to effective dissolving of the cleaner tab.

The DosageAssist ensures optimal cleaning results and a quieter wash. The detergent drops out the detergent dispenser and into a special tray on the top basket where it gets completely dissolved.
The perfect cleaner that never wastes a drop.

Not all washing loads are the same, so why should each cycle automatically use the same amount of water? The LoadSensor feature uses a rotary speed sensor to detect the load weight and water level, so that only the required amount of water is used. For example, smaller loads require less water for rinsing, so less water is added, whereas full loads are given more water for optimal soaking. A feature that delivers perfect results while saving you water and electricity? Now that's smart.
The dishwasher that protects itself from water damage.

At Bosch, we care about your dishes and also about your home safety.The AquaStop System consists of a double-walled feed hose, a mechanical valve in the feed hose and a visual display. Water running out collects in the hose casing and causes a sponge to swell up, which then stops the flow of water mechanically. Bosch offers protection against water damage, wash after wash.
10-Year Rust-Through Warranty
We have developed special surface treatments and production processes that are precisely tailored to the materials used in the interior of our dishwashers. As a result, a 10-year guarantee against rust through of the inner cavity, from the inside out, on all our dishwashers can be offered