Features

Manoeuvre easily thanks to Motion Sync Design
Clean with powerful, long-lasting CycloneForce suction
Get rid of pet hairs thanks to the Pet Cleaning Kit
Use a range of easily-accessible built-in accessories
Smooth and easy movement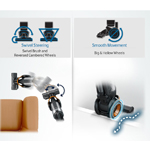 The Samsung Motion Sync upright vacuum cleaner features Motion Sync Design™ with a swivel brush and reversed cambered wheels. The combination of the two features ensures exceptionally easy movement and makes swift and sudden turns much easier. Also, the wheels are big and hollow to enable a smooth motion, so they roll steadily and easily with minimum effort.
Powerful suction that lasts*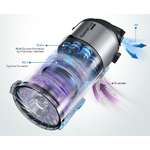 The Samsung VU4000 Motion Sync's innovative CycloneForce multi features a unique interior structure with nine inner chambers that create a multi cyclonic airflow. Its strong centrifugal force separates dust particles and debris from the air and keeps them from leaving the chamber. So it prevents the filter from clogging to maintain powerful suction for a long time.
HEPA Filtration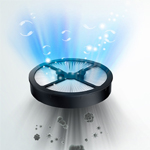 The Samsung vacuum cleaner features an advanced anti-allergy and hygienic filtration system approved by the British Allergy Foundation (BAF). The Hepa filtration not only removes dust and dirt, but also captures of air-borne allergens.
Clean further and stop less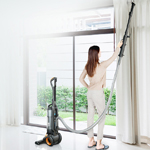 The Samsung VU4000 Motion Sync features a Long Reach Hose that stretches up to 3.8 metres. So it's easy to clean a large area or move from room to room without having to carry it around or unplug it.And you can also reach to the top of your staircase or other hard to clean areas like curtains and ceilings without changing outlets.
Convenient cleaning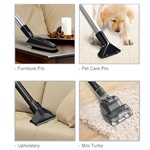 The Samsung VU4000 Motion Sync has different kinds of accessories in Pet Cleaning Kit to suit a variety of cleaning needs, especially for people with pets. These specialist fittings feature different shaped heads that are specifically designed for cleaning pet hair, stubborn stains and difficult areas like furniture, stairs and windows. So you will get great results, with much less time and effort.