CHEF CONTROL
Divides the hob into three or four cooking zones, and activates them simultaneously at a pre-set power level. Pans can be moved from one area to another without interacting with the user interface, so dishes can continue cooking at different temperatures for added flexibility.
INDUCTION TECHNOLOGY
Faster, energy-efficient cooking.
Induction technology heats the pan, not the hob, reducing energy dispersion by 10%, and providing perfect cooking results.
FLEXISIDE
Take the space you need by combining two cooking zones into one.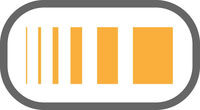 FLEXIBLE COOKING
Automatic power settings.
Select the cooking function on your touch display and your hob will automatically adjust the power level accordingly.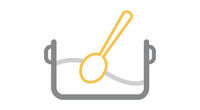 MELTING FUNCTION
Perfect low-heat cooking.
The Melting function allows you to cook at very low temperatures, providing you with the ideal solution for melting chocolate, butter or for cooking light, delicate sauces.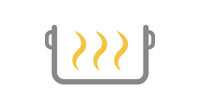 KEEP WARM
Warm meals, anytime.
The low-powered Keep Warm function prevents your food from cooling, whilst the rest of the meal is being prepared.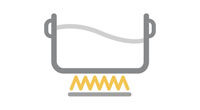 SIMMERING FUNCTION
Superb simmering.
The Simmering function allows you to obtain the perfect results for your slow-cooking recipes, and prevents your food from toughening.